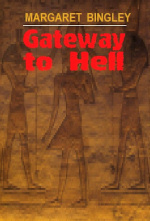 Nicola, a child psychologist and her husband, Howard, adopt her twin nephews after they are orphaned in a car accident. After being brought up in Egypt, their father's country, the twins are both spoiled and difficult. They refuse to bond with their aunt and uncle, but remain greatly attached to Sergei, a Russian friend of their late father's, who begins to make regular visits to them in their new home.
Due to her professional training, Nicola believes that in time she can learn to love the strange six-year-old boys, and vice versa, but Nicola doesn't understand that these are not ordinary children, but boys with extraordinary and potent powers. They are on a dark and terrifying mission that must be accomplished, and nothing and no one will be allowed to stand in their way.
Leaving a trail of devastation and heartbreak behind her, Nicola finally travels to Egypt with her nephews and the charismatic Sergei, hoping for a new and happier life with her nephews and their mentor. However, now the horror truly begins as, totally cut off from her friends and family, she finds herself trapped in a nightmare world of dark sexuality and an ancient evil that leads her inexorably ever closer to the hidden gateway to hell.