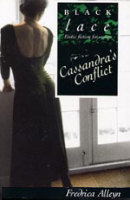 1993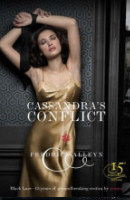 2008

I can't believe that 15 years have passed since I wrote 'Cassandra's Conflict'. It was very exciting for me to be invited to write one of the four launch titles, but also slightly nerve wracking. No one involved in the launch of Black Lace had any idea of how the books would be received, as the concept of 'erotic fiction, written for women by women' was an entirely new one. The erotic fiction market had always been written with men as the target reader, even though a considerable number of women did read them.

I researched my book by inviting groups of female friends round, plying them with wine and then asking them about their secret sexual fantasies. The results were very interesting, and one common theme cropped up again and again. This was the idea of a man coming into their life who would make them, initially against their will, explore their own sexuality in ways they would never have been willing to suggest themselves. This theme seemed to me to be an erotic version of 'Jane Eyre', and possibly explains that novel's enduring appeal to women!

Working on the assumption that this would probably be a one-off book, I made sure that I included everything possible in it, catering for all tastes but with a main theme of bondage and domination. This resulted in one reviewer noting that it was the first book she had ever read where she'd had to flick through it to find the 'clean' parts!
When the first four books were published, there was an incredible reaction. The Sunday Times book cartoon depicted all four of the launch titles stacked in piles on tables in a bookshop. Queues of men were grabbing the books, all saying 'it's for my wife'. At the till one shop assistant was saying to another 'I don't know who's buying these books' and the second one was replying 'liars mostly.' This, although funny, was in fact totally untrue. Thousands of women were buying them, and filling in the questionnaires at the back to give the authors feedback.
I didn't get, or indeed expect, any good reviews from the media, who were fairly united in their condemnation of the concept. I remember that Claire Rayner, having read my book in order to review it, said that she knew I wasn't really a woman as only a man could have written something so disgusting.
The Australian Daily Telegraph Mirror, in its 'Life' section, in an article entitled 'Mills & Bondage' reviewed Cassandra, and the end of the review stated:
'Readers with a shred of cynicism will find it hard to accept these characters who have devoted their lives to pleasures of the flesh. Cassandra, despite initial reservations, loves every minute of her erotic education. She vaguely resembles a traditional heroine in that she rides off into the sunset, but it's only to another orgy'.

The article went on to state: 'Asked what her husband thinks of her foray into erotic fiction, Alleyn gives a coy giggle. 'He's vastly amused by it all,' she said. 'He helped me considerably in writing the novel, but not in the way you might imagine. He would read what I wrote each day, in case I'd written about something which was physically impossible for a man to achieve.'
Alleyn rejects claims that Black Lace novels are pornography, and applauds the notion that erotica for women has gone mainstream. 'I suppose the prominence of erotica for women is another reflection of the way our horizons have been broadened over the past forty years. In these novels the heroine is always in control and always comes out on top.'
On 16th September 1994, with a large picture of my book jacket at the top of the page, novelist Candida Crewe wrote a full page article in the Daily Mail entitled 'Why do women writers betray their own sex?' In it she accused women writers of erotic fiction of feeding the myth that the feminine sex is turned on by reading about submissive women being degraded by men. She said 'This is the stuff of male fantasy, and seriously nasty male fantast at that. At least if women must compete with men at this dubious game they have the imagination to come up with something original.'
In fact, as Black Lace celebrated its first birthday, the Sunday Times quoted how 'a recent readership survey had provided interesting reading, with shop assistant, nurses, and advertising executives queuing to hail the "sense of liberation in having pornography for me in WH Smith" When asked to select characteristics for their ideal hero, survey respondents put "sexually dominant" first, with a 70% score, ahead of "caring", "romantic" or "hunky". Their list of ideal erotic themes is correspondingly headed by "submissive female", ahead of "romantic love", "dominant female" and various kinky options. Back to basics, really.'
I was so incensed by Candida Crewe's article, that I wrote to the Daily Mail, as Fredrica Alleyn, and this letter was published by them on 21st September 1994.
'As author of Cassandra's Conflict, I can tell you that Black Lace novels aren't text books, or serious literary works. They're escapist sexual fantasies for women, greatly enjoyed by thousands of women who understand this. Black Lace questionnaires and my own discussions with women show most women's favourite sexual fantasy involves submissive women and dominant men, although they feel guilty about this because of the current "politically correct" climate. I am sorry if this doesn't fit Ms Crewe's idea of what women should fantasise about, but women's liberation is intended to give them the freedom to enjoy their sexuality in any way they choose. Why should they get over being dictated to by men only to be dictated to by politically-correct feminists? These books are not a betrayal. A lot of women enjoy reading them, and are grateful that at least they can buy them freely in general bookshops. If you don't like them, don't buy them. There are plenty of other women who will.'
Fifteen years on, with Black Lace still going strong, I do feel that I've been proved right. I'm delighted that I was there at the beginning and equally delighted that my first Black Lace novel is being reissued as part of their anniversary celebration.
Margaret Bingley,
December, 2007